Condos For Sale Bend Oregon
View every condo for sale in Bend, OR here. We have today's latest condo listings, HOA information, sales history, property taxes, CCR's and every other item of interest pertaining to condos for sale in Bend, Oregon. Call Greg Broderick, a condo broker at (541)280-2363 to discuss or view any of these Bend condominiums for sale seen below.

All Condos For Sale In Bend Oregon
September 22, 2023
Bend Oregon Condos For Sale
Bend, Oregon has an abundance of desirable condos for sale. This includes condos located on a golf course, condo's situated in downtown Bend, The Old Mill, and condos for sale which are located throuout the Westside of Bend, including Condos For Sale in NW Crossing. In fact, we have every condominium and townhome listed for sale in the Bend area. Keep in mind, a condo is different from a townhome, so if you are looking for a Townhouse or Townhome For Sale in Bend, OR be sure to check out the afformentioned link. If you are entertaining the idea of having a second home, purchasing a Bend Oregon Condo For Sale can be a fantastic way to go - due to the fact the home owners association will take care of the exterior condo maintenance on your behalf. This includes driveways, sidewalks, exterior paint and even the roof. While you will of course absorb this cost through your townhome or condo HOA fees, the cost is normally reasonable, and not much more if you had to take care of everything yourself. Several of the Bend condominium associations, such as Inn at The Seventh Mountain, also include electricty, water, sewer, refuse, and building insurance in their HOA monthly condo dues as well. There are certainly a wide variety of Bend condos for sale, and we have literally represented buyer's and seller's in nearly each and every one of the condo or townhome associations located throughout Central Oregon. If you are looking for a condo within easy access of the Westside trails ands skiing, consider looking at the Mt. Bachelor Village Condos. We know the Bend real estate condo market, and we are happy to share our knowledge of every Condo for sale in Bend Oregon which can be purchased today. This includes condos and townhomes located in downtown Bend, Tetherow, Broken Top, Pronghorn, The Old Mill (such as The Mill Quarter , Basecamp, and Otter Run), and any condo located on a golf course in the Central Oregon region. We also have knowledge of hard to find condo listings on the Deschutes River, as well as Luxury Condos For Sale, including condominiums with mountain views. If this type of property appeals to you, be sure to inform us of your individual taste and specific requirements so that we may discuss the current condo market conditions as well as today's available inventory. If you are comfortable with condo living, you might consider the investment potential of purchasing a duplex for sale in Bend, as this would offer the additional benefit of a revenue stream. We know Bend real estate, and we have a townhome or Bend condo for sale waiting just for you!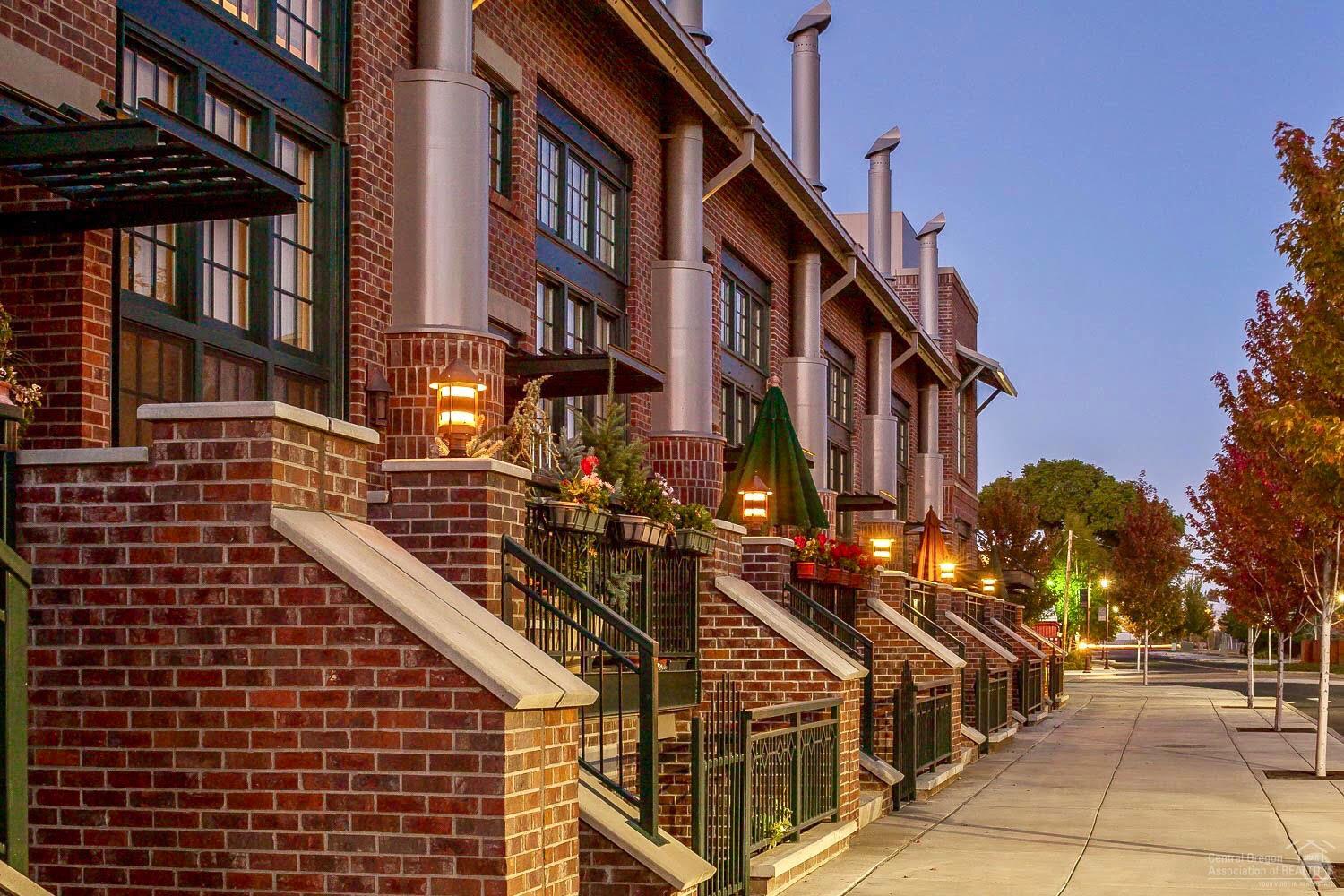 Condos in Bend - A lifestyle choice!
While you certainly have a lot of options to buy a condo for sale in Bend, Oregon... should you? While admittedly, condos are not for everyone, neither are single family homes. A condominium will typically offer a potential buyer a little more "bang for the buck" than a single family home. While buyers may very well be out to maximize their total square footage or even location by purchasing a condo, many buyer's enjoy the lifestyle which accompanies a condominium purchase. One of the most frequent reasons a Bend, Oregon condo owner will state their main motivation for buying a common owership unit or townhome vs. a single family home is for the sole reason that the HOA will perform the lion's share of the exterior maintenance on a condominium, including the roof, siding, snowplowing, landscaping, and driveway. A good example of this are the condos for sale at Mt. Bachelor Village. In fact, a condo owners financial responsibility normally lies within the structure ofd the condo unit ityself. If you are still exploring this region, than we suggest you visit our Bend area resource page. Lastly, Here are a few tips on buying a condo here, which I think you might enjoy,
Are Bend condos a good investment?
While many things have been said about buying or selling a condo, at the end of the day you make your money when you buy. In other words, use the same prudent approach you would with any other real estate investment purchase, and definatley employ the location, location, location strategy. In Bend, condominiums on a golf course, condos with mountain views, and condos on the Deschutes River will always command a premium. Downtown condo's and townhomes in the Old Mill are always in short supply and have incredibly high demand, and this is directly reflected in the price. Are you a first time home or condo buyer? If so, watch this video. We know the Bend real estate market, and welcome your questions. Call Greg Broderick, a licensed Oregon Realtor to assist you in finding the right property for your needs.Greg can be reached at (541)280-2363 to discuss condominiums in this area. If you are considering doing a 1031 Tax Exchange, be sure to visit this page we created for sellers of Bend real estate desiring to defer their capital tax gains.

Here is a good video on whether a condo purchase is a good investment. Of course, we believe it is, and would be happy to discuss the finer points with you of finding the right condo for sale in Bend, Oregon.
New Condo Listings - Last 7 Days
12 Properties
Address
Beds
Baths
Sq.Ft.
Price(%Chng)
$/Sq.Ft.
On Site
60431 Snap Shot Loop
Bend, OR 97702
4
4
2,540
$1,100,000
$433.07
2 days
2561 NW Shields Dr
Bend, OR 97703
1
1
620
$489,000
$788.71
3 days
60450 Elkai Woods Dr
Bend, OR 97702
2
2
1,765
$679,000
$384.70
3 days
1585 NW Lewis St
Bend, OR 97703
3
3
1,813
$809,000

-2.4%

$446.22
3 days
60603 Seventh Mountain Dr
Bend, OR 97702
3
3
2,482
$975,000
$392.83
3 days
1050 NE Butler Market Rd
Bend, OR 97701
2
3
1,650
$399,000
$241.82
4 days
60311 Addie Triplett Loop
Bend, OR 97702
3
2
1,493
$599,000
$401.21
5 days
2488 NW Awbrey Rd
Bend, OR 97703
2
3
1,422
$849,900
$597.68
8 days
2488 NW Awbrey Rd
Bend, OR 97703
2
3
1,422
$849,900
$597.68
8 days
2551 NW Crossing Dr
Bend, OR 97703
3
3
1,896
$924,900
$487.82
8 days
18575 SW Century Dr
Bend, OR 97702
1
2
716
$329,000
$459.50
8 days
111 NW Hawthorne Ave
Bend, OR 97703
2
2
1,050
$479,000
$456.19
8 days
Bend Oregon Condo - 6 Months Market Activity
255 Properties
Address
Beds
Baths
Sq.Ft.
Price(%Chng)
$/Sq.Ft.
On Site
747 SW Otter Way
Bend, OR 97702
4
5
3,854
$2,475,000

-14.4%

$642.19
75 days
706 SW Industrial Way
Bend, OR 97702
2
2
3,669
$2,250,000
$613.25
110 days
213 SW Log Ct
Bend, OR 97702
4
4
2,313
$1,799,750
$778.10
88 days
211 SW Log Ct
Bend, OR 97702
4
4
2,305
$1,799,750
$780.80
88 days
60420 Snap Shot Loop
Bend, OR 97702
4
5
3,647
$1,790,000
$490.81
--
1172 NW Skyline Ranch Rd
Bend, OR 97703
4
4
3,127
$1,628,500

-8.6%

$520.79
184 days
1176 NW Skyline Ranch Rd
Bend, OR 97703
4
4
3,127
$1,558,500

-3.8%

$498.40
14 days
132 NW Phils Loop
Bend, OR 97701
3
4
3,313
$1,500,000
$452.76
--
2243 NW Reserve Camp Ct
Bend, OR 97703
2
3
1,801
$1,467,500
$814.83
--
61347 Kindle Rock Loop
Bend, OR 97702
3
4
2,886
$1,450,000
$502.43
--
3300 NW Celilo Ln
Bend, OR 97703
2
4
1,190
$1,399,900
$1,176.39
75 days
60472 Kangaroo Loop
Bend, OR 97702
3
4
3,110
$1,399,000
$449.84
37 days
1171 NW Skyline Ranch Rd
Bend, OR 97703
3
3
2,354
$1,365,000
$579.86
--
65650 Swallows Nest Ln
Bend, OR 97701
4
5
4,110
$1,350,000
$328.47
--
3308 Lot 153 NW Celilo Ln
Bend, OR 97703
2
4
1,600
$1,349,900
$843.69
191 days
2614 NW Rippling River Ct
Bend, OR 97703
3
4
3,003
$1,345,000

-10%

$447.89
115 days
61282 Meeks Trl
Bend, OR 97702
3
4
2,442
$1,325,000
$542.59
--
1175 NW Skyline Ranch Road Rd
Bend, OR 97703
3
3
2,354
$1,319,000

-2.2%

$560.32
40 days
3312 Lot 154 NW Celilo Ln
Bend, OR 97703
3
4
1,600
$1,299,900
$812.44
191 days
61341 Kindle Rock Loop
Bend, OR 97702
2
3
2,337
$1,295,000
$554.13
--
65652 Swallows Nest Ln
Bend, OR 97701
4
5
3,452
$1,290,000
$373.70
64 days
2622 NW Rippling River Ct
Bend, OR 97703
3
4
3,003
$1,285,000
$427.91
--
60490 Snap Shot Loop
Bend, OR 97702
4
4
2,540
$1,229,000
$483.86
38 days
913 SW Vantage Point Way
Bend, OR 97702
3
4
2,340
$1,225,000
$523.50
--
625 Otter Way
Bend, OR 97702
3
3
2,403
$1,200,000
$499.38
--
19509 Painted Ridge Loop
Bend, OR 97702
3
4
2,460
$1,200,000
$487.80
89 days
61579 SW Riverwalk Ln
Bend, OR 97702
4
4
2,126
$1,195,000
$562.09
18 days
754 SW Industrial Way
Bend, OR 97702
3
3
1,822
$1,185,000
$650.38
--
61303 McRoberts Ln
Bend, OR 97702
3
3
2,219
$1,179,000
$531.32
26 days
20331 SE Jack Benny Loop
Bend, OR 97702
4
4
2,873
$1,150,000
$400.28
--
55 SW Wall
Bend, OR 97702
4
4
1,995
$1,137,000
$569.92
--
61358 Triple Knot Rd
Bend, OR 97702
2
3
2,336
$1,100,000
$470.89
--
60496 Snap Shot Loop
Bend, OR 97702
3
4
2,540
$1,100,000
$433.07
--
17458 Canoe Camp Dr
Bend, OR 97707
3
4
2,483
$1,100,000
$443.01
--
60431 Snap Shot Loop
Bend, OR 97702
4
4
2,540
$1,100,000
$433.07
2 days
60511 Snap Shot Loop
Bend, OR 97702
3
4
2,540
$1,077,000
$424.02
--
291 SW Bluff Dr
Bend, OR 97702
2
2
1,661
$1,069,000
$643.59
--
20341 SE Chandler Egan Way
Bend, OR 97702
3
3
2,424
$1,050,000
$433.17
--
57127 Fremont Dr
Sunriver, OR 97707
3
4
2,249
$1,025,000

-4.7%

$455.76
155 days
57178 Evergreen Loop
Sunriver, OR 97707
3
4
2,190
$1,020,000

-1.9%

$465.75
101 days
20290 SE Chandler Egan Way
Bend, OR 97702
3
3
2,086
$1,017,269
$487.66
--
61285 Tetherow Dr
Bend, OR 97702
2
2
1,172
$995,000
$848.98
--
20294 SE Chandler Egan Way
Bend, OR 97702
2
3
2,086
$989,670
$474.43
--
20298 SE Chandler Egan Way
Bend, OR 97702
3
3
2,093
$979,750
$468.11
102 days
61907 Broken Top Dr
Bend, OR 97702
3
4
2,521
$975,000
$386.75
--
19521 Painted Ridge Loop
Bend, OR 97702
3
4
2,043
$975,000
$477.24
--
60603 Seventh Mountain Dr
Bend, OR 97702
3
3
2,482
$975,000
$392.83
3 days
20302 SE Chandler Egan Way
Bend, OR 97702
2
3
1,913
$959,750
$501.70
100 days
19445 Ironwood Circle
Bend, OR 97702
3
4
2,703
$955,000
$353.31
--
61284 Howe Way
Bend, OR 97702
2
3
1,652
$950,000
$575.06
--
Condos For Sale Bend Oregon - Sold last 90 days
September 22, 2023